LinkedIn is all about quality connections. It is that extra layer of networking that is becoming vital to have in the professional world. If you are not on LinkedIn, you do not exist to an employer or a valuable contact.
So as students how do we best make use of this tool? We have not started our career, and professionals do not really have to time to help us. Further, the university career adviser, as lovely as they are, just us to use LinkedIn and our weak contacts to get a job. So below I offer a few of the ideas I have used to make LinkedIn a useful source for building a contact list as to help me get a job in the future.
Its all about leads
LinkedIn lends itself to building quality leads by using acquaintances. When you find someone in that dream company, you want to work for; you can click on their profile scroll down to "How You're Connected", and you will see the best way to get introduced to this person.
Bam and your way in is: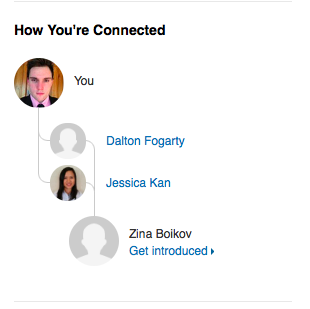 LinkedIn has made this feature better through the "See connections" Link. Now you can sort connections out by industry,
Unlike other social networks, think Facebook, LinkedIn is all about creating leads to various job openings. You may connect to a company by talking to the HR or some weak contact, a friend of a friend, and may not have a job for you. However, if you made a good impression, they may pass your contact details on to another company who has an opening. Most HR departments have close contact with other companies HR departments. Therefore, getting to know these people can be great for your career, and with you can connect to the right person.
Connect with quality contacts or don't add your drinking buddies
Quality is much better than quantity, so unless you drinking buddies are CEOs for listed companies better to keep them on Facebook and away from LinkedIn.
That being said about how you plan to use linkedIn. Some people use it to connect to new leaders in the field, others may see it as a tool. So really think of how you in your situation can use to develop in your chosen field.
LinkedIn is a safe place to start networking
The idea of networking may be going back to my overall theme. LinkedIn is a social networking tool. Its how you use it that matters. For those of us in university starting out on our career, LinkedIn is a safe place where we can connect with professionals. Its full contact or just watching experts from afar we can learn and become better by making these connections.
In her book The Defining Decade, by Meg Jay, PhD outlines that most of us get jobs not by our friends in our lives but from those distance contacts, from people we hardly see or know. She says the secret to getting a job is to strengthen connections. These soft relationships are perhaps the best tool of LinkedIn, through you can reinforce those contacts and hopeful land a dream job.
With time your LinkedIn will grow, and you will connect with interesting people who may be able to help you start your career.
The best resource I have found for LinkedIn is LinkedIn Influence.